Environment & Safety
ENVIRONMENTAL, HEALTH AND SAFETY (EHS)
Providing a safe and healthy workplace is a fundamental business responsibility, and one that PCI takes very seriously. We are fully committed to the continuing development of a strong company-wide health and safety culture focused on preventing and correcting hazards and safety concerns before an injury occurs. We strives to deliver safe and error-free Products and Services to our customers. We have supplemented our comprehensive environment, health, and safety (EHS) programs with the Westinghouse Human Performance program to help achieve operational excellence through world-class EHS performance.
PCI employs HuP to motivate its personnel to carry out tasks in a safe and responsible manner, which values the prevention of errors instead of simply focusing on regulatory compliance. PCI personnel are therefore trained to be "constructively intrusive" — to always be ready to proactively intervene in a positive manner for their personal safety and for the safety of colleagues. Employees are empowered to stop in the face of uncertainty or if in unsafe conditions. Similarly, PCI leadership provides continuous appropriate reinforcement and coaching of these behaviors.
PCI has a certified instructor to qualify personnel to OSHA 10 and OSHA 30 standards. All of our personnel are subjected to safety and HuP training and testing prior to being placed in the field. Additionally, all personnel are required to pass a rigorous security background investigation and fitness-for-duty testing prior to employment. Through this process, PCI has achieved Occupational Safety and Health Administration incidence rates (TRIR, ISAR) that are well below the national averages for its industry.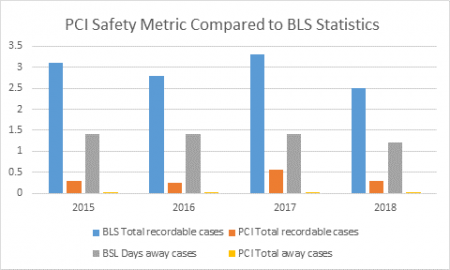 LABOR RELATIONS
PCI signed agreements effective January 1, 2004, with both the United Association of Plumbers & Pipefitters and the International Brotherhood of Boilermakers trade unions. These agreements enable PCI to form composite crews for the specialty welding operations that it provides at both nuclear power plants and industrial process  plants worldwide. The agreement, the first of its kind, gives PCI the ability to greatly expand its resource base as well as adding flexibility in manning specialty projects.
PCI is better positioned to offer its customers access to a greater pool of highly-skilled welders while providing greater potential for reduced costs due to the composite crews that we utilize. The agreement also enables PCI to work in expanded parts of the power generation industry. With composite crews we can help you better meet your schedule and budget. Welders in the boilermaker and pipefitter unions are not only qualified by current union standards, but also receive proficiency training and qualification on current PCI specialty welding equipment, methods, procedures, and technologies.